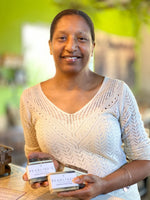 A Mission Centered around Care, Quality, & Health
As a Biomedical Research Scientist, I became leery of the names of ingredients on the back of a bar of soap that are difficult to identify.
I started to be as concerned about what goes on my skin as I am about what goes into my body and I began using plant-based natural soaps. This led me to develop soaps that are olive oil based, blended with other natural oils and butters which are moisturizing, gentle on the skin, high in antioxidants, rich in healthy fatty acids and amino acids that nourish the skin and have protective anti-bacterial, anti-inflammatory and anti-aging properties. If you have a similar mindset, then you are the perfect consumer for our natural products.
Testimonials
I'm a big fan of these soaps. My favorite is the clay facial bar; I use it every night, and it helps to keep down my worst breakouts. Always excited when new products become available!

Qiana H.
The soap smells delicious and it really feels awesome on the skin. Plus it's made with love. Try it. You'll like it.

Sandra T.
The quality of the soaps I bought are superior to the other artisan soaps I tried before. My skin feels clean and silky and smells really good. I love your products!

Esther S.
I bought a gift set and two separate soaps (Silky Argan and gentle coconut) for my wife and I. The soaps are handmade, perfectly scented, and extremely moisturizing. I can't wait to get more!!!

Kim M. Jr.
I use the Rich Mango & Eucalyptus soap and it is SO moisturizing on my skin. It doesn't make my skin feel dry like some natural soaps have done in the past. The eucalyptus smell is subtle but is soothing with the steam of a warm shower.

Autumn A.
I have been buying this soap for a few months now. It's wonderful. The smell is great and my skin is glowing..

Chris P.
Amazing products! My skin never felt better. The natural ingredients will leave your skin feeling clean, and healthy.

Peter H.
This soap is awesome! The BEST mosturizing soap I have used, and the packaging is so nice.

Valoree W.
I purchased 3 bars of this soap at a fall festival for my teenage daughter. Her skin is glowing and has never looked more radiant! Love these soaps!

Rhonda W.